Welcome to the home of Bolton Youth Baseball and Softball Programs.

Our program is designed to give all children ages 5-15 the opportunity to have fun learning and playing the great American pastime of baseball and softball.

On this website you will find all the information you need to be an active participant in our program, including schedules, game rules, information on special events, teams and BoD contact information. We are a league run entirely by volunteers and largely supported by our generous local sponsors, so please consider registering as a volunteer to help make Bolton Youth Baseball a great program for years to come.

We encourage all kids to get out there and play one of the many Bolton youth sports programs. If you have any additional questions, please start by visiting our PARENT RESOURCE pages or contact a league administrator listed on the CONTACTS
HEADLINES
Before you get swept up in the SuperBowl Sunday festivities...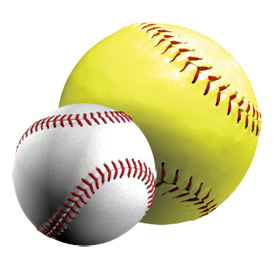 Baseball ~ Softball ~ T-Ball
---
Register by February 15, 2015 to avoid late fees
---
FOR SPRING 2015:

There are five (5) baseball registrations for players age 5-15 based on age and skill.
Baseball ~ T-Ball Registration

is generally for first time Pre-K and Kindergarten players who are 5 or 6 years of age.

Baseball ~ Instructional (A/AA) Registration

are developmental divisions generally for players 6-9 years of age, designed to prepare players for future Little League play.

Baseball ~ Little League (

Minors

AAA/Majors) Registration

is for more advanced players

generally

age 9-12 years of age who are ready for higher competition. These levels require a tryouts.

Baseball ~ Junior League Registration

for players 13 years of age who are graduating from the 60-foot Little League sized field to play games on the 90-foot Major League sized field.

Baseball ~ Senior League Registration

for advanced players 13-15 years of age who have experience at the 90-foot Major League sized field.
In addition there are three (3) separate softball registrations for female players age 6-12 based on grade and skill.
Softball 8U Registration

for players (1st-2nd grade) graduating from T-Ball or first time players as an introductory softball league.

Softball 10U Registration

for players (3rd-4th grade)

Softball 12U Registration

for players (5th-6th grade)
*To avoid late fees and wait lists- please register on line by Feb 15th*
ALL ELIGIBLE PLAYERS MUST TURN 5 BY 4/30/14
Nashoba Baseball 13th Annual
Baseball Clinic – Saturday, March 7th, 2015
(Snow date March 8th)
Nashoba Regional High School - Rt. 117, Bolton, MA
Two Sessions Available: or sign up for both!
9:00 - 12:00 (registration at 8:30 if not pre-registered) OR
1:00 - 4:00 (registration at 12:30 if not pre-registered)
Kids separated into 3 age groups: 5- 7 yrs. old, 8-10 yrs. old and 11-13 yrs. old
---
Schedule will cover position instruction/drills, batting instruction/drills. Our goal is to help in the development of young players, increasing their overall knowledge and skills in the game of baseball. Quality instruction will be given on all aspects of the game and emphasis will be on fundamentals and team play. Kids from everywhere are welcome!
All proceeds from this clinic support the Nashoba Regional H. S. Baseball teams
Clinic Staff:
Chuck Schoolcraft, NRHS Varsity Baseball Coach, AAU Coach/ Triple Play Batting Cage Owner
Don Martin, NRHS Jr. Varsity Baseball Coach
Matt Lane, NRHS Assistant Varsity Baseball Coach/Triple Play Baseball U15 Coach
Trevor Short, NRHS Freshman Baseball Coach
NRHS Certified Athletic Trainer
Click here to download the flyer for more information and to register.
REGISTER NOW TO RESERVE YOUR SPOT!
Winter Baseball and Softball Clinics
5-week programs, Jan-Feb schedules, AtBats in Boxborough
Winter Baseball Clinics, ages 5 to 18
- Baseball Rookies, ages 5-6; fundamental skills, small groups.
- Baseball All-Skills, ages 7-10; hitting, throwing, fielding skills.
- Hitting, Pitching and Catching Clinics; semi-private, basic & advanced levels.
- Winter Baseball Camp, ages 11-14; with UMass coach, Saturdays.
- High School Hitting Workouts with college coaches; 3 players per clinic.
Winter Softball Clinics, ages 8 to 18
- Softball All-Skills, ages 8-11; hitting, throwing, fielding.
-
Advanced Skills, ages 11-14; next-level offense and defense skills.
- Hitting, Pitching and Catching Clinics, semi-private, basic & advanced levels.
- High School Softball Hitting Workouts; semi-private, 3 players max.
- High School Softball Skills Clinics with Harvard University softball coach.